Members, Klas Nevrin Ensemble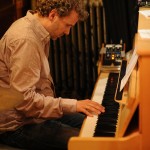 Klas Nevrin (piano, zither and keyboards). Pianist and composer, inspired by all kinds of genres and instruments: from Debussy and Paul Bley to microtonal zither and north-Indian tabla drums. Klas has also been researching yoga, meditation and non-violent communication, as well as studying experimental philosophers such as Deleuze and Nietzsche. He teaches and researches improvisation at the Royal College of Music in Stockholm. Klas is perhaps best known for his work with the free jazz groups Yun Kan 5 and 10, led by saxophonist Fredrik Ljungkvist. He has also played with Raymond Strid, Mats Gustafsson, Ken Vandermark, Joe Williamson, Martin Küchen, Lennart Åberg, Gerry Hemingway, Palle Danielsson, William Parker, Lina Nyberg, Erika Angell, Øyvind Skarbø, Per Zanussi, Richard Ekre-Suzzi, among others. Also see nevrin.se for more!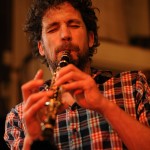 Per "Texas" Johansson (clarinets and tenor saxophone). Per is one of the legends in Swedish jazz, not least because of the three CDs he recorded with his own band (with Fredrik Ljungqvist, Johan Lindström, Mikael Ulfberg, Dan Berglund), and perhaps especially "Alla Mina Kompisar" (1998). He is internationally sought after, well-known for his unusually skilled reed-playing and generously sensitive improvisation. Also working as a hospital nurse (specialized in anaesthesia!), Per has played with Barry Guy New Orchestra, Per-Henrik Wallin, Esbjörn Svensson, Guy Barker, Mattias Ståhl, Cecilia Persson, Paavo, Mats Äleklint, Lina Nyberg, Radiojazzgruppen, Rebecka Törnkvist, Gerry Hemmingway and Torbjörn Zetterberg, among others.
Katt Hernandez (violin). Katt's wholly unique approach to the violin draws extensively on multiphonics, harmonics and melodies drawn to bring every imaginable sort of color out of her instrument. "Musicians everywhere are aware of her exceptional artistry, and even international writers and producers are telling us of their fortunate discovery. . .  it is good to see that someone as good as Katt is finally being recognized" (Stu Vandermark, Cadence Magazine). Katt has been a prolific performer on the East Coast of the United States but moved to Stockholm in 2010 and quickly became involved in many new projects, including The Schematics, Fens, Yun Kan 10, Das Dingbat and many others. Katt has collaborated with a wondrous and variated sea of improvisers, musicians, artists, dancers and mavericks – including Joe Maneri, Joe Morris, Jonathan Vincent, Alyssa Cardone, Gordon Beeferman, Joel Grip, Evan Lipson, Walter Wright, David Stackenäs, John Berndt, Matt Samolis, Lisa Ullén, Gene Coleman, Audrey Chen, Saul Levine and Zack Fuller.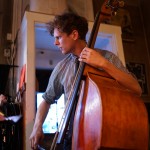 Vilhelm Bromander  (bass). An eclectic bassplayer, composer and improviser. Vilhelm plays upright bass in improvised music, contemporary classical music and various jazz/freejazz bands, and electric bass in various pop/afrobeat bands (including Saigon and Music is the weapon). Vilhelm also has a small cassettelabel, Quaset, where he releases music that he likes and/or is a part of. For the last 5 years he's been a busy concertproducer for improvised music through FRIM and his own Club, Club:ovisation.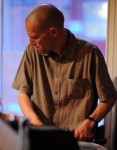 Ricard Österstam (drums). A versatile drummer with an unmatched, dynamically rich sound. Ricard has toured Swedish prisons, used to run a vegetarian restarant and plays indian percussion instruments. His work with young children is much appreciated, pivoting around elements of improvisation and spontaneous music. He has played with among others saxophonist Fredrik Ljungkvist, cellist and performance artist Amit Sen, guitar player and rhythm guru Mulle Holmqvist (together they recorded the legendary CD "Parafras"), and saxophonist Martin Küchen.
(All photos by Heiko Purnhagen.)